Too Strong to Die
Available on Audio 11hrs-34min

Don't miss this epic tale of two women fighting for their beliefs and trying to find common ground in their personal lives. One reviewer called this fast paced, action romance, "Die Hard for Lesbians." Texas Ranger Ricky Strong is chasing a vicious serial killer that has left no clues. Her life becomes more complicated when one of the victims is the missing sister of ultra-conservative Senator Christine Richmond. Their lives become more entwined when Ricky is assigned to protect the headstrong senator on her goodwill tour of the Texas border. The President gives Senator Richmond the impossible task of working with the Mexican government to build the wall along the Texas border. A task that puts her in the crosshairs of the Mexican drug cartel. Ricky and Christine embark on a journey that is sometimes dangerous, sometimes funny, but always exciting and hair-raising. The two strive to maintain their "friendship" as they become embroiled in situations that could destroy their careers. The two face life and death as they battle to keep each other alive.Fast action and romance make this one of the top romantic thrillers of the year.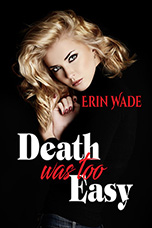 Death Was too Easy
Available on Audio 6hrs-33mins

The court orders brilliant defense attorney Mandy Kincaid to handle the death penalty appeal of Lisa Mercer, a woman accused of killing her three small children. Mandy uncovers evidence that proves the woman is innocent. Mandy's biggest problem is that Lisa insists that she did murder her children. Femme fatale Jordon Kiser is the owner of the top private investigation firm in town. Mandy hires her to uncover the truth about the deaths of the children. As Jordon works closely with Mandy, the beautiful detective awakens feelings that surprise and terrifies the defense attorney. Ambitious Assistant District Attorney Rick Randolph is determined to convince the jury that Lisa is guilty of the heinous crime. While fighting to see that the young mother receives the death penalty, Rick finds that he has fallen in love with Mandy Kincaid. Torn between a puritanical world where women marry men and her desire to be with Jordon, Mandy's professional and personal life is turned upside down as she and Jordon race the clock to save their client from death row. A volatile love triangle, an implausible killer, and twisted twists make this one of the best suspense romance thrillers of the year.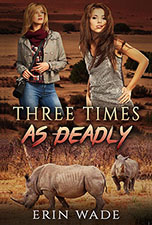 Three Times as Deadly
Available on Audio 7hrs-48min

When Sloan Cartwright awakens in an African hospital with no memory, she is astounded to find three beautiful women claiming to be her wife. An attempt on her life makes her realize that her biggest problem is not which woman is her wife, but who wants to kill her and why. She discovers that she holds secrets that will topple governments and bring down illegal poachers in Africa. The only problem is that Sloan can't remember where she hid the evidence. Sloan quickly realizes that she must trust one of the women to help her escape Africa. Which one will it be? Wife Number One: Amarosia (Amy) Cartwright, a beautiful Halle Berry look-a-like who tells Sloan that they have been married for five years and make their home in Africa. Wife Number Two: Leigh Redding Cartwright, blonde, wholesome, girl-next-door beauty who obviously adores Sloan and claims they have been married for seven years and live in New York. Wife Number Three: Alexandra Roland Cartwright, gorgeous international business mogul who has flown into Africa to take her wife home with her. Sloan isn't sure it is her the women want or the evidence she has hidden. You will laugh and cheer for Sloan as she juggles the three beauties while trying to stay alive and escape from a country where everyone wants her dead.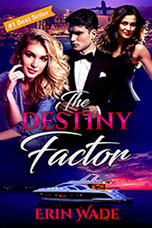 The Destiny Factor
Available on Audio 6hrs-1min

Renny James thought she was falling in love with her boss then she met his wife. Renny was totally unprepared for the beauty and charisma of Vivian Rockmore. The electricity between the two women was undeniable but too many obstacles stood between them. We are each the master of our own destiny, aren't we? That was the mantra of Renny James as she fought her way out of poverty and rose to the ranks of the rich and glamorous. Clean sheets were Renny's criteria for success. A brilliant student, she knew a college education would get her out of the horrible poverty in which she lived. Nothing would stop her from achieving her goals. Determined to distance herself from the filth and hopelessness that marked her youth, Renny worked hard and wasted no time on things like family or friends. Raised by a mother whose only thought was about where she would find her next boyfriend, Renny learned to fend for herself. She knew education and hard work were her tickets to a better life.
Brad and Vivian Rockmore introduced Renny to the world of beautiful people, cruise ships, and private jets. At twenty-eight, Renny had realized all her goals. She had no idea her ambition would land her in jail for murdering the only person she had ever loved. Erin Wade takes the reader on a fast-paced ride in her murder mystery/romance with a twist. If you like a good suspense-filled novel, you will love The Destiny Factor.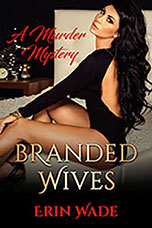 Branded Wives
Available on Audio 7hrs-36min
Detective Ash Denton and her forensic psychiatrist wife Lana are baffled when beautiful women in their town are targeted by a serial killer. The killer brands each woman that dies. Unlike the movies, the case load of Mrs. and Mrs. Denton isn't just the Branded Wives case. Follow Ash and Lana as they track an internet pedophile ring, a drug cartel and the killer of a young prostitute. Ash faces death daily, but learns the true feeling of fear when the serial killer targets her wife, the woman that makes her life worth living
Novels by
Donna Raider
website: www.donnaraider.com

---
All of Donna Raider's books are available on Kindle Unlimited.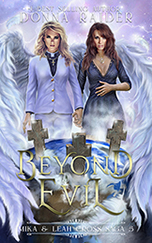 BEYOND EVIL - BOOK 5

This lesbian action/adventure thriller continues the saga of Mika and Leah Cross. Angel Mika and Witch Leah move their family to a small Texas town where things appear to be peaceful. They are welcomed with friendly handshakes and warm smiles but what is hiding behind those smiles? Mika begins the task of building a church but soon encounters rabid religious persecution. As town citizens begin to disappear Leah realizes that something Beyond Evil is engulfing their community. The discovery made by their oldest daughter shines a spotlight on the eternal lovers and causes people to ask Leah, "How old are you?" A question she would rather not answer. You'll gasp, laugh and cry as the witch and angel try to defend their love and family against an evil determined to destroy them all.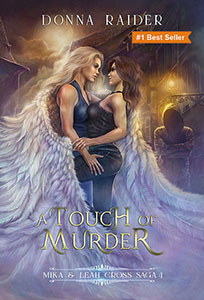 A TOUCH OF MURDER - Book 4
$9.95

A Touch of Murder is the fourth novel in the saga of Mika and Leah Cross. Mika is an angel and Leah is a witch who have found eternal love in spite of their differences. An ancient evil lurks in the background as our lovers make the decision to leave New York and move to a safer place. But there may be no safe place for them in this world.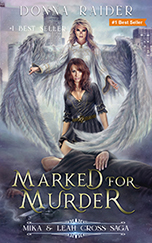 Marked for Murder - Book 3 - $9.95
Available on Audio
Donna Raider ramps up the action and suspense with Marked for Murder. Priest Mika Cross strives to keep her family safe when accidents begin to happen to those in power in the church. Secrets are revealed. An ancient serial killer rises to exact his own brand of retribution and our lovers are caught in the middle of something they can't stop.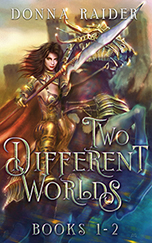 A Twist of Fate - Book 2 - $9.95
Available on Audio

Sometimes even Angels have to get their hands dirty!
Leah and Mika battle the forces of hell for one another. Sacrifices are made to save a life. A twist of fate tore them and their world apart. Could one of them, alone, put it back together again?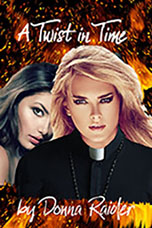 A Twist in Time - Book 1 - $9.95
Available on Audio

They lived in two different worlds. Leah was a wicked queen--the epitome of evil. Mika was a woman of God--a priest in 22nd-Century America. Both fought the
attraction that threatened to destroy them. Their love was plagued by demons and curses. A twist in time brought them together testing Mika's faith and Leah's strength. Romance, action and adventure combine to make this one of the best novels of the year.


BOTH BOOKS FOR THE PRICE OF ONE IN THIS BOX SET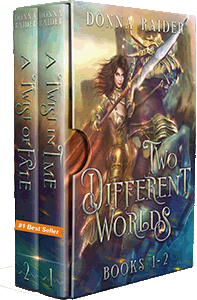 BOX SET CONTAINS BOOKS
1 & 2 for just $9.99

This Box Set contains Book 1, "A Twist in Time" and Book 2, "A Twist of Fate" of the Two Different World Series the complete story of Mika and Leah Cross. The epic love story of lovers from two different worlds. Mika is an angel, neither female nor male, but an entity from heaven where there is no such thing as gender. Mika first appeared to Leah as a man. Leah killed him. Mika's second attempt at wooing the beautiful witch was as a woman. Leah fell in love with her thus Mika has retained the female form. The lovely Leah is the most powerful witch in the world. Her love for Mika gives her the strength to overcome her occasional desire to do wicked things to her adversaries.
The two immortals are just beginning their lives together and learning about one another. You will love and laugh with the two as they take on the evils of this world. You'll cringe and cheer as Leah reverts to her evil ways in order to save her wife and children. If you like non-stop action, romance and karma, you will love this series.




THREE BOOKS FOR THE PRICE OF ONE IN THIS BOX SET
CONTAINS BOOKS 3, 4, & 5 FOR JUST $9.99